Is your ViiBE account set up, you've logged in, and now you're ready to start making calls? Great! Let us show you the different ways to launch a ViiBE call, so you can get started providing immediate assistance for customers or technical support engineers.
If you have an Administrator, Manager, or Operator ViiBE account, you can launch a call to a specific person in your company that has a ViiBE account, or call a non-ViiBE user by sending a link via email or SMS.
Using ViiBE to provide remote assistance is useful for call centres who want to improve their customer service experience, as well as for technicians who want to collaborate with an expert for a maintenance call.
How to call an internal collaborator
To call an internal collaborator, under the tab "Call someone", type someone's name or click the drop-down menu to select a user if the person you want to call is registered with a ViiBE account under your organisation.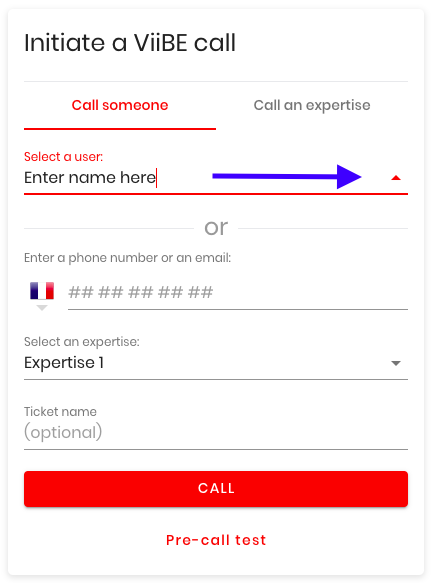 Once you have selected the name of the person you would like to call, simply click the red button that says "Call" to launch the call.
Now that you understand how to reach individual people through their ViiBE account, you're ready to start making calls and provide remote technical support! Check out our articles on the conversation interface functions to take full advantage of using ViiBE to enhance your remote assistance experience.
For further information how you can implement ViiBE into your call centre, fill in your name and email below and one of the ViiBE team members will reach out to you shortly!
Contact form