As discussed in our article detailing how to send a document on the ViiBE interface, you may find that your video communication could be enhanced by sharing documents between all call participants. Once these documents have been shared within the ViiBE conversation space, the other participants can then save the documents of their choice for future reference. 
To save documents, look at the space under the video call. You will see an area showing the documents that have been shared within the call.
To save a document, scroll over the document you want to save. You will see a save icon in the upper right-hand corner of the document. Click on this icon to save the document.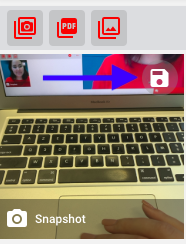 Check out the other conversation interface articles to go more in depth about each of the functions available during a ViiBE call.
If you are curious about how you can renew your call centre or technical support agents' remote assistance skills with ViiBE, fill out your name and email below and one of our ViiBE team members contact you with more information!
Contact form