Access to the ViiBE dashboard interface and call tickets is reserved for Administrators and Managers. Once you are in the dashboard, you can see the chronological chart of all calls made within your call centre.
To go to the dashboard, look at the upper right-hand corner of your homepage heading. Click on the icon with concentric rectangles to interact with the dashboard interface.

On the left side of the dashboard, click on the "tickets" tab to see the history of calls in your call centre.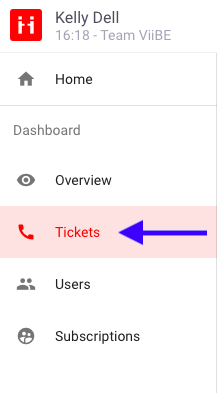 The dashboard tickets tab displays the date and time of each call, the status of whether or not the call was resolved, the title of the ticket, and the name of the call centre that handled the ticket.
Interested in further information on what user data is available on the dashboard? Keep reading the dashboard FAQ articles, or fill out your name and email below and a member of the ViiBE team will reach out to you.
Contact form